This EcoTaskForce web page created with 100% recycled electrons
*****************************

DAWSON COLLEGE, Laurentian Mountains and Kahnawake Mohawk Nation
We are seeking support for a ground-breaking project that brings an international environmental dream to reality.
Become a Financial Sponsor
Join as Support Personnel through "Taking It Global"
With the cooperation and support of forward-thinking organizations and communities, we have entered an important phase of our vision and efforts to coordinate an internationally-based sustainable tourism certification body,
1.) utilizing existing and evolving certification criteria, and
2.) focussed on the training and dispatch of qualified cross-cultural auditors and guides around the world.
(ECE)
Experimental Certification Expedition (ECE) AMAZON - June 2003
We are looking for financial or material support in the Experimental Certification Expedition to the Guaporé Valley: "The Undiscovered Amazon" of Brazil in June 2003. Our principal ETF consultant will conduct a survey and preliminary evaluation of facilities and practices in the area measured against existing "first world" criteria. Among the objectives of the ECE will be to determine which, or what combination of the existing certification systems is most appropriate for the real-world circumstances of community-based tourism in developing countries.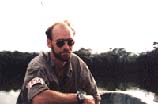 Another objective of the Explorasport EcoTaskForce will be to identify local guides and tourism professionals to train and coordinate as Sustainable Tourism Auditors in the region and as members of international auditing teams.
A documentary photo-essay and report article on community-based-tourism acknowledging sponsors will be written and submitted for publishing.
Requirements for ECE Amazon:
Return Airline Tickets from Montreal to Porto Velho Brazil , travel insurance, vaccines,
$100 US / day x 10days= $1,000 U.S.
MISSION SUCCESS!.... see overview of Brazilian ECE
(CME)
Course Module Exchange (CME) COSTA RICA - July 2003
ETF Principal Consultant Philip McMaster has been developing the concept of Sustainable Tourism Auditors (STA's) through his work, papers and lectures at Concordia University, Ecole des Hautes Etudes Commerciales, the 2002 Quebec EcoTourism Summit and now at Dawson College in Montreal, where he has been engaged to develop the pedagogic outline for an Adventure Technologist Program leading to qualification as an Sustainable Tourism Auditor.

We are looking for financial or material support to attend the "Course Module Exchange and Research into Certification Internationalization" and Think Tank - hosted by the Conference Board in Costa Rica early July 2003. We will present our fresh findings from the Amazon ECE at this conference for tourism practitioners and educators and discuss how to advance the education and training of the next generation of professionals in the field of sustainability.
Course modules refined and adopted in Costa Rica will be incorporated into Adventure Technologist program at Dawson College, and STAT Training Centres in the Laurentians and at Kahnawake Mohawk Nation.
Requirements for CME Costa Rica:
Return Airline Tickets from Montreal to La Garita, Alajuela Costa Rica.
Conference cost - $425 U.S.
$100 US / day x 10days = $1,000 U.S.

(ATP)
Adventure Technologist Program, DAWSON COLLEGE - summer 2003

In addition to existing ESA Photography modules, Adventure Technologist modules vetted through the Course Module Exchange (CME) in Costa Rica will be compiled into a curriculum at Dawson College, in Montreal, Canada.

(STAT)
Sustainable Tourism Auditor Training (STAT) KAHNAWAKE - summer 2003

Following classroom learning at Dawson College, Aboriginal Teacher Training at the Wild Outdoor Learning Facility (WOLF) at the Kahnawake Mohawk Nation and in the Laurentian mountains will eventually include a Multi-Lingual Auditor Dispatch Coordination Centre (ADCC).

(ADCC)
Auditor Dispatch Coordination Centre (ADCC).
---
*****************************************************
Community Based Tourism Articles - Philip McMaster

"Adventure entrepreneur turns eco-networker" - China
---
---
---
---
This EcoTaskForce web page created with 100% recycled electrons