(ECE)
Experimental Certification Expedition (ECE) AMAZON - June 2003
We are looking for financial or material support in the Experimental Certification Expedition to the Guaporé Valley: "The Undiscovered Amazon" of Brazil in June 2003. Our principal ETF consultant will conduct a survey and preliminary evaluation of facilities and practices in the area measured against existing "first world" criteria. Among the objectives of the ECE will be to determine which, or what combination of the existing certification systems is most appropriate for the real-world circumstances of community-based tourism in developing countries.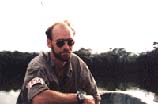 Another objective of the Explorasport EcoTaskForce will be to identify local guides and tourism professionals to train and coordinate as Sustainable Tourism Auditors in the region and as members of international auditing teams.
A documentary photo-essay and report article on community-based-tourism acknowledging sponsors will be written and submitted for publishing.

Requirements for ECE Amazon:
Return Airline Tickets from Montreal to Porto Velho Brazil , travel insurance, vaccines,
$100 US / day x 10days= $1,000 U.S.